Intuitive, Innovative
& Predictive IT Services
At Sprint Networks, we believe in the transformational power of technology, from unlocking new possibilities, to resolving new challenges, to make lives easier for both people and businesses. We are experts in designing and executing the best technology solutions for Australian enterprises, ranging from the smallest of businesses to the largest of corporations.
Let our work speak for itself. Feel free to reach out to our customers for any feedback.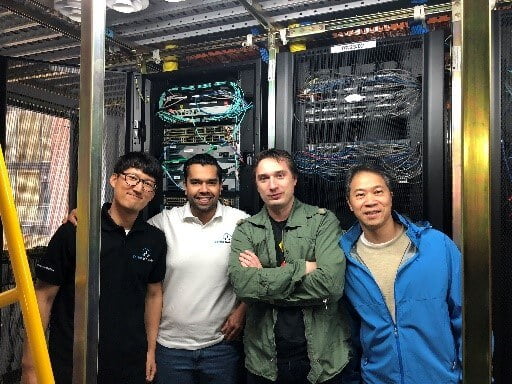 I came across Sprint Networks through LinkedIn about five years ago when they were doing Network optimization projects in PNG. Sprint Networks has made substantial improvements to the CIG network, we have a more robust and secure network to leverage off into the future. George from Sprint Networks went above and beyond his responsibilities to make sure that the project was delivered on time and budget. I would certainly recommend Sprint networks to any other company in PNG interested in building better networks.
I consider Sprint Networks to be a top-notch network consulting firm. Their response to support calls raised is impressive. One thing that stands out for me personally is the value they added to the services they provided to us. They went out of their own way to provide extra services that were not included in our order but that were necessary to get things working. Their engineers held themselves in high esteem and this was demonstrated in the level of service they provided to us. I've no hesitation in recommending their services to any company that might want to utilise their expertise.
Thank you for wonderful MPLS failover link designed and deployed by you and Sprint Network in Sydney. I have tested the MPLS link which improved banks uptime on Telkom PNG network. National Development Bank Limited's and its subsidiary People's Microbank Limited's customers and staffs at Wewak are happy with the transactions turnaround time. Sprint Network has done a tremendous job to improve the Banking service and I recommend you and sprint network for wonderful professionalism in networking and MPLS auto failover configurations. Thank you!
Jit, today we're extremely proud to say we have one of the best IP data networks in PNG. The network performance is world-class. With redundancy and automatic failover on our WAN network using Telikom and Digicel is a very special achievement for Westpac PNG. We know managing networks can be challenging across the boarders but your team was able to adjust to various in country norms and work well with the local stakeholders. Thanks for helping us.
I worked with Jit in my capacity as COO Westpac Pacific, and I recommended Jit's services with Sprint Networks to Westpac as I was so impressed with Jit's expertise and knowledge, and also his energy, passion and "can do" attitude. Westpac put Jit and Sprint Networks through an intensive procurement process and suffice to say Sprint Networks is now a key supplier in the Telecommunications Networking space for Westpac in the Pacific.
At Kina, on-boarding the ANZ business was a big challenge in itself. This needed a streamlined approach which Sprint Networks took it upon themselves to deliver an 'on-the-go'build that became a solid platform for us to integrate our business. The results speak for itself!
We have found Sprint Networks' Engineers to be highly skilled and a very professional. This makes working with them a joy. The Sprint Networks team has always made themselves available and they work independently or with the Rabobank team when required very professionally. The collaboration has enabled Rabobank to be very efficient.