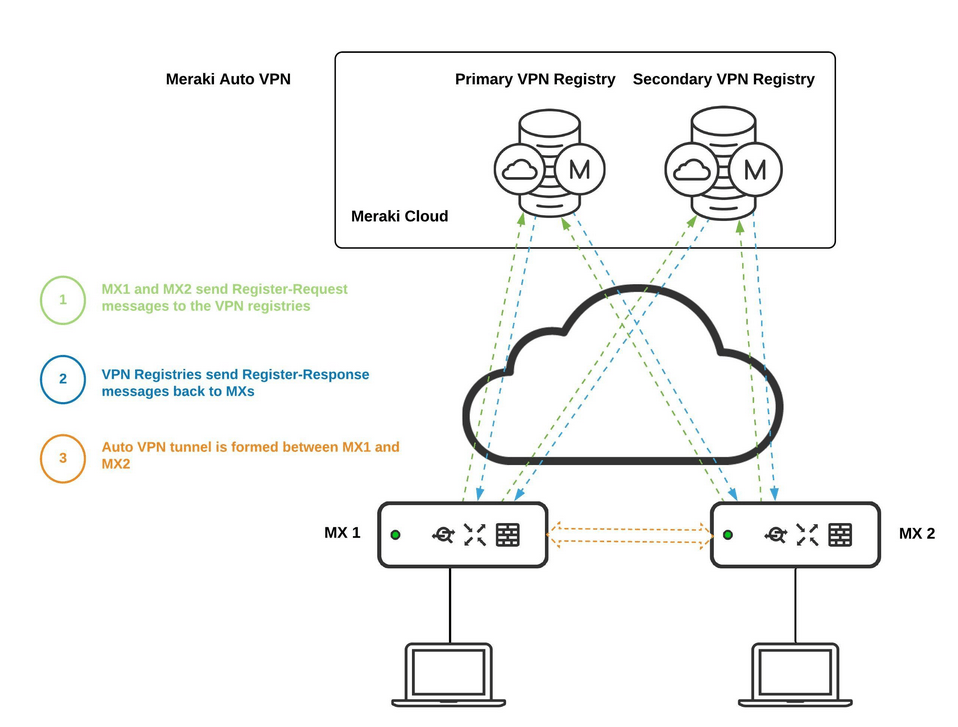 Site-to-Site VPN is an essential part as SD-WAN provides secure data transport across sites
Cisco Meraki allows you to build up easily and quickly Site-to-Site VPN connections across remote sites using Auto VPN. Auto VPN as a proprietary technology developed by Meraki uses VPN Registry in Meraki Cloud to control VPN connections.
Meraki MX security appliances interact with VPN Registry by exchanging Register messages that contains the IP address and the UDP port that MX appliances communicate on, and the MX appliances request the contact information of their peer MX appliances.
VPN Registries respond to MX appliances with the contact information of the peers the MX appliances should establish tunnels with.
Once the information is shared with MX appliances about their peers, VPN tunnels are established between MX appliances. The Meraki Cloud pushes a key to MX appliances used to establish AES encrypted IPSec tunnels.
Local subnets for VPN communications are shared across VPN.
VPN routes are pushed from the Dashboard to MX appliances for this process. Finally, the Dashboard dynamically pushes VPN peer information to each MX appliance. Every MX appliances store this information in a separate routing table.